Armed robots -- similar to the ones
now on patrol in Iraq
-- are being marketed to domestic police forces, according to the machines' manufacturer and law enforcement officers. None of the gun-toting 'bots appear to have been deployed domestically, yet. Both cops and company officials say it's only a matter of time, however.
"Other than some R&D with the shotgun mount, we haven't used it operationally," Massachusetts State Police Trooper Mike Rogowski tells DANGER ROOM. "But they're on the way. They're coming,"

Foster-Miller, maker of the armed SWORDS robot for military use, is also actively promoting a similar model to domestic, civilian police forces. The Talon SWAT/MP is a "robot specifically equipped for scenarios
frequently encountered by police SWAT [special weapon and tactics] units and MPs [military police]," a company fact sheet announces. It "can be configured with the following equipment:
• Multi-shot TASER electronic control device with laser-dot aiming.
• Loudspeaker and audio receiver for negotiations.
• Night vision and thermal cameras.
• Choice of weapons for lethal or less-than-lethal responses
- 40 mm grenade launcher - 2 rounds
- 12-gage shotgun - 5 rounds
- FN303 less-lethal launcher - 15 rounds.
In addition to the Massachusetts State Police, SWAT teams in Houston, San Francisco, and Lubbock, TX all have the robots, according to Foster-Miller spokesperson Cynthia Black. None of the team have armed the machines, so far. But Trooper Rogowski, for one, is extremely interested -- especially in equipping the robot with a less-lethal weapon, like a three-shot Taser stun gun. "That would be phenomenal," he says.
However, Trooper Rogowski adds, "Massachusetts is a pretty liberal state. To get management to sign off on an armed weapons platform -- that'll be pretty interesting, to see how that goes."
(Foster-Miller competitor iRobot recently teamed up with Taser International to build a stun gun-packing 'bot of their own.)
Like the SWORDS, the Talon SWAT/MP is based on Foster-Miller's line of bomb-disposal robots which have seen years' worth of action in Iraq. Rogowski says handling ordnance is his robot's main mission, too. But the machine has also been deployed in SWAT-type situations -- even before it gets armed.
Last fall, Rogowski remembers, a person in the town of Wilbraham, Massachusetts had barricaded himself into his house. But the overwhelming odor of propane fumes made police reluctant to send humans in. The robot went instead -- and discovered propane tanks, as well as the man. "He had shot himself in the master bedroom," Rogowski recalls.
It's not a topic to be taken lightly, despite the flippant nature of my title. You have got to read this, though. We've seen a lot of critically wounded service personnel return to fight the enemies that made them amputees in the first place. Some of the stories are remarkable. Grunts that lose and arm, so they study math to go back into the artillery, snipers that lose one eye so they teach themselves to shoot from the other. It's humbling, though if I had my druthers such incredible achievements would never be necessary.
Now this guy has designed something that takes prosthetic replacement to a whole new level. It's cool as hell, gang, and you have to wonder if it's not the often-theorized bridge to what you might as well think an "augmented grunt". Call it the Steve Austin theory (the really cool action hero from when I was growing up, not the big sweaty dude that jumps around a wrestling ring with other big sweaty dudes). You know. We can rebuild him. Better. Stronger. Faster.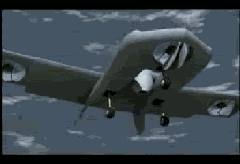 We're covering the Air Force Association convention this week in DC and we'll keep bringing you updates of cool tech from the show. I thought you'd be interested in the V-22 story, but I can see from the lack of comments it was ho-hum.
Here's another story from Bryant on a cool as heck drone the makers hope can be used to medivac or insert troops under fire. Sooo Alien 2...I love it. But I doubt we're at a point where a special operator would be willing to hitch a ride with a robot plane...]
Firm Building Man-carrying VTOL Drone
A Virginia-based company is hoping to test-fly a vertical take-off and landing drone before the end of this year that, ultimately, could do triple duty as strike vehicle, medevac or special ops insertion/extraction plane.
The Excalibur is currently being developed as an armed, tactical unmanned aerial vehicle by Aurora Flight Sciences of Manassas, Va., capable of carrying Hellfire anti-tank missiles and Viper Strike missiles. The Hellfire is currently mounted on Predator UAVs, while Viper Strike missiles are used for strikes on the Army's RQ-5B Hunter UAV, both fixed wing aircraft requiring traditional runway take-offs and landings.
Excalibur anticipates giving the Army -- if it chooses to follow through in developing the weapons system -- a way of delivering strikes with a VTOL-capable UAV, according to Tim Dawson-Townsend, Excalibur program manager.
The plane uses a turbine-electric hybrid propulsion system for VTOL capability and a turbine engine for horizontal flight, according to Excalibur's specs. Because the plane's flight control system would operate with a high level of autonomy, it would not be remotely controlled. The focus of the operators would be on mission planning, locating and engaging targets, the company says.
But with modifications, said Dawson-Townsend, the aircraft could carry a man. Ground forces could such a UAV to move an injured or wounded Soldier, while special operators could be dropped into our extracted from a location without the need of a pilot or even flying the vehicle themselves, he said.
Trinity demonstrates robotic surgery
Quad-Cities Online, IL -
20 hours ago
The Trinity Center for Advanced Surgery is inviting the public to a free hands-on demonstration of its new da Vinci Surgical System robot from 7-11 am and ...