Urban Shield exercise tests law enforcement response
Oakland Tribune, CA -
Sep 15, 2008
Urban Shield is considered the largest homeland security training of its kind in the country. More than 1700 people participated in or worked at the event, ...
Urban Shield Tests Police Ability
Daily Californian
Reporter Takes Part in Urban Shield Simulation
Daily Californian
all 8 news articles »
Massive terror operation in US, Europe said possibly imminent
17 September 2008: A disturbing communication posted in a high level Arabic language forum suggests that some type of terrorist operation is currently underway, targeting sites within the United States and Europe. According to information developed within the last 24 hours by a deep-cover intelligence operative, Islamic terrorists have been dispatched to the U.S. and Europe and may be in place, preparing to execute unspecified terrorist attacks within the U.S. and Europe.
Neither the targets nor the types of attacks were able to be identified from an analysis of the communications, although it appears possible that the European and American operations could be conducted in tandem. Also unclear is the timetable of potential attacks, although the wording pertaining to the "anticipated celebration" of the success of such attacks suggests that they will be carried out within the next few days.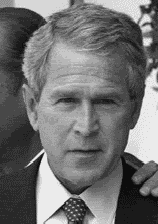 Germany lists 600,000 Jews persecuted by Hitler
Where the fuck is a list for the 5 million they claimed was slaughtered?

While many such threats by Islamic terrorists are published constantly and end up being nothing more than propaganda, it is important to note that the origin and nature of the communications isolated here meet a significantly higher standard of evidence for threat evaluation purposes. As such, it is the recommendation of this agency that individual awareness of any suspicious activity be stepped up accordingly, and immediately reported to the appropriate law enforcement agency.
Increased vigilance by law enforcement and security professionals is also urged, especially at areas of likely "hard" targets such as our infrastructure.


'We are at war with extremists', warns Bush
US economic meltdown
US Prepares For New Actions Against Russia
'We have lost control', warns US Federal Reserve Chief
Wall Street collapses as fears of more turmoil mount
US Federal Reserve Increases Crisis Funds To $247 Billion
US Federal Reserve, European Central Bank and Bank of Japan Pump $180 Billion Into Markets
Dow plunges nearly 450 points, Americans said scared to death
Last Two US Investment Banks Standing Watch As Share Prices Plunge
Oldest US money-market fund dips below safety benchmark
Gold prices post biggest 1-day gain ever
Russian stock market suspended for third day in a row as shares plunge
Russia snubs its nose at US, announces new arms sales to Iran and Venezuela
Russia Builds Ties in Latin America to Challenge US
Putin Sees Stability Ahead As Russia Pumps 350 Billion Into Markets
Medvedev signs treaty to defend Georgia separatists
Russia Must Cement Claim Over Arctic Resources, Medvedev Says
Russia Reserves Fall on Ruble Support; Bonds Decline
NATO denies rifts with EU on Georgia but tones down its rhetoric against Russia
US-Russia breakdown raises fears of terrorists gaining nuclear weapons
175 arrested in Mexican drug cartel bust, hundreds of millions of dollars in cash, cocaine seized
US, Mexico continue hunt for border officials' plane
7 killed in Mexico Independence Day grenade attack
Calderon takes popular and dangerous stand against Mexican drug cartels
US credit woes slam Mexico stocks, peso
Mexican stocks sink 3.79 percent on financial jitters
3 dead, 31 injured in Mexican prison riot
Mexican police identify 21 of 24 bodies killed in massacre
Plane carrying US, Mexico water officials goes missing
War
on drug traffickers boosts Calderon
UCPD seeks volunteers for Urban Shield exercise
The University of California Police Depart-ment (UCPD) is seeking volunteer role-players to participate in Alameda County's Urban Shield law-enforcement-training exercise, Saturday, Sept. 13, through Monday, Sept. 15.
Urban Shield is a multi-agency, regional training event designed to test and enhance the emergency preparedness and response abilities of police departments for a wide variety of critical situations. Tactical-response teams from two dozen departments across the country will be deployed around-the-clock to handle a variety of simulations and scenarios, including incidents ranging from natural disasters to acts of terrorism.
UCPD, in partnership with the city of Berkeley Police Department, is sponsoring one of these Urban Shield events — a domestic-terrorism and active-shooter simulation on the Berkeley campus. The scenario will be run continuously, day and night, from 5 a.m. Saturday to 5 a.m. Monday.
Volunteer role-players from the campus community will help provide a realistic training environment. Volunteers are welcome to sign up for from three to 12 hours at a time, on either or both days. Some meals will be provided, and volunteers will also receive a commemorative t-shirt for their assistance. No particular training or experience is required.
Visit www.urbanshield.org or call UCPD at 643-1810 for more information. To volunteer, call the UCPD number.