Gigantic Polar Cyclone and Spinning Hexagon at Saturn's North Pole.

Surrounding this cyclone is a puzzling hexagon-shaped structure, first seen by the Voyager 1 and Voyager 2 spacecraft more than 20 years ago,
and imaged by Cassini last year.
Although the hexagon itself is stationary, small white clouds inside the structure move at speeds exceeding 500 km/second, whipping around the hexagon like cars on a racetrack, says Ingersoll.
Intriguingly, the central eye of the northern storm isn't clear but is covered by a dark cloud 600 km wide, which Cassini scientists have dubbed the bellybutton.
At the south pole, where it's summer, Cassini took images in visible light and in infrared. The new images show features one-tenth as small as those seen before. Previous visible-light images showed an outer ring of high clouds surrounding what appeared to be a relatively cloud-free region, but the new close-ups reveal a second, inner ring of strong storms.
The outer ring has a diameter of 4,000 km with a wall of towering clouds 40 to 70 km high. The inner ring has about half the diameter of the outer one.
Infrared images of the south show that the entire region is marked by dark cloud spots, an indication of underlying thunderstorm activity similar to that in the north, notes Baines.
In the south, the central eye is clear. "Darned if I know" why a hexagon pattern appears only in the north and not in the south, says Ingersoll.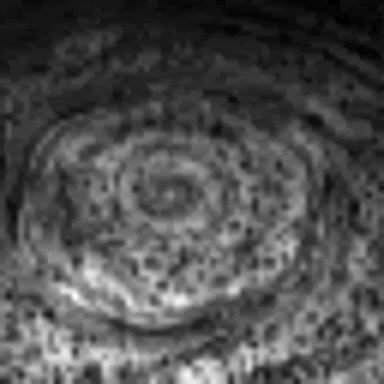 Mysterious Cyclones Seen at Both of Saturn's Poles
National Geographic, DC -
Oct 14, 2008
But without large bodies of liquid water, Saturn's polar cyclones are likely fed by heat from thunderstorms deep in its ammonia-filled atmosphere, ...


Giant cyclones seen on Saturn
MSNBC -
Oct 13, 2008
Strangely, neither the fast-moving clouds inside the hexagon nor the cyclone seem to disrupt the six-sided feature. The cyclone on Saturn's south pole has ...
UPI NewsTrack Health and Science News
Times of the Internet, Ohio -
Oct 13, 2008
The space agency didn't identify the makeup of the hexagon other than to call it odd. New Cassini imagery of Saturn's south pole shows similar cyclonic ...
Giant "Hurricanes" Ring Saturn's Poles
SkyandTelescope.com, MA -
Oct 14, 2008
Meanwhile, he and other mission scientists have known since the 1980s (thanks to the Voyager flybys) that a strange, hexagon-shaped cloud feature some 15000 ...