A UFO over Concord?
Concord Monitor, NH -
3 hours ago
The light was so unusual - Sherman noticed the light blinking before it took off in the sky - that Sherman wondered whether she'd seen a UFO. ...


Kentucky man
sees UFOs
.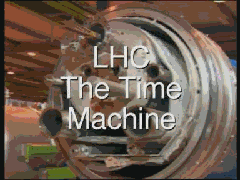 Two Russian Mathematicians claim that the Large Hadron Collider (being built in Switzerland) has the potential to "tear holes" in spacetime.
Here is their paper written from the
Steklov Mathematical Institute:
http://arxiv.org/pdf/0710.2696
Just curious on people's thoughts.
More sightings of 'strange lights'
Scarborough Today, UK -
Sep 16, 2008

He said: "There are reports from all over the UK but we seem to have better luck here in North Yorkshire in filming them." He added there had been reports ...
Lights in the Sky
ABC News -
Sep 16, 2008
"Ninety percent of most UFO reports are individuals who think they saw something and it's really an explainable object," said Robert Powell, in investigator ...
Time machine launches quest of discovery
Times Online, UK -
Sep 10, 2008
The human race has now constructed a machine — a time machine, if you like — that will open a window on scenes that have hitherto been limited to our ...


The Future Of Murder Will Be Undone By Time Travel
io9, CA -
Sep 10, 2008
Proving that even good films can be improved with the injection of some good science fiction, New Line Cinema have announced their plans to produce a movie ...


Stargate: Continuum on Blu-ray Disc
Bigpicturebigsound.com, NY -
Sep 3, 2008
The story revolves around time travel and a stolen stargate (a device that allows inter dimensional travel) that the SG-1 team must go back in time to ...

Black Hole Wars
Gallery: Artists' renditions of spaceships and other fantastical creations.
--Wired