Reuters -
26 minutes ago
LOS ANGELES, Nov 13 (Reuters) - Southern Californians by the millions were signed up to simultaneously drop to the floor on Wednesday and huddle face down ...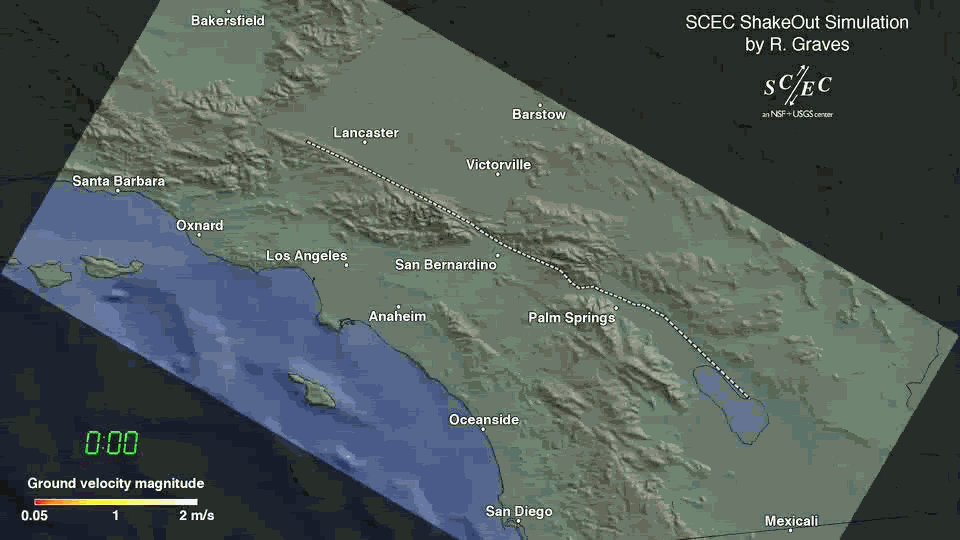 From Mitch Battros - Earth Changes Media
What would happen if California was hit by a large earthquake? The 3-D animations show from the perspective of a several different Southern California locations, how intensely the ground would shake and shift during a very strong 7.8 earthquake with an epicenter on the southern end of the San Andreas Fault.
The science-based earthquake scenario, developed by USGS scientists and partners, is used for both the Great Southern California ShakeOut drill on November 13 and the statewide Golden Guardian 2008 emergency response exercise from November 13 - 18.
The ShakeOut earthquake scenario animations provide a graphic tool for first responders, engineers, decision makers, Southern California residents and other members of the public to understand, visualize and prepare for the devastating effects, even far from the epicenter, of a large, damaging earthquake. The San Andreas Fault has produced earthquakes of this magnitude in the past and could again in the future.
Animation Movie: http://earthquake. usgs.gov/ regional/ nca/simulations/ shakeout/ movies/ShakeOut_ mapview_lowres. mov
The USGS is also making available new broadcast quality background interviews and footage of the San Andreas Fault-crossing Cajon Pass, a narrow corridor through the San Gabriel Mountains known as an important "lifeline corridor" where roads, railroads, water and energy pipelines, and electrical and communications infrastructure provide service to millions of residences, businesses, commuters and communities in Southern California.
FULL ARTICLE: http://earthchanges media.com/ secure/3247. 326/article- 9162523314. php
____________ _________
Global Warming Link to Frogs and Other Amphibians is 'Wrong'
Evidence that global warming is causing the worldwide declines of amphibians may not be as conclusive as previously thought, according to biologists. The findings, which contradict two widely held views, could help reveal what is killing the frogs and toads and aid in their conservation.
"We are currently in the midst of a sixth mass extinction event," said Peter Hudson, the Willaman professor of biology at Penn State and co-author of the research study. "And amphibians are bearing the brunt of the problem."
Studies suggest that more than 32 percent of amphibian species are threatened and more than 43 percent face a steep decline in numbers.
FULL ARTICLE: http://earthchanges media.com/ secure/3247. 326/article- 9162523315. php
____________ _________ _
India to Sent Space Mission 'Aditya' to the Sun in 2012
India will send its space mission to the Sun in 2012 to find out answers for how and why solar flares and solar winds disturb the communication network and play havoc with electronics back home on the Earth.
The Sun's corona as also its flares and winds create geomagnetic field disturbances on the Earth and often damage man-made satellites and spacecraft hovering up in the sky under intense sunlight.
After the successful launch of its moon mission, Chandrayaan- 1, the Indian Space Research Organization is now gearing up for the Mission Aditya, aimed at unraveling the secrets of the Sun, the father of our solar system. ISRO chairman G Madhavan Nair on Monday announced in Bengaluru that ISRO was ready with its new space program to explore the corona of the Sun in 2012.
FULL ARTICLE: http://earthchanges media.com/ secure/3247. 326/article- 9162523313. php
KBR wins Army Corps contract to provide power during emergencies

11 Nov 2008 KBR Inc. has been awarded a $75 million disaster relief contract by the U.S. Army Corps of Engineers for emergency power. The Houston-based engineering company will be supplying the power to the Western region of the United States. The five-year contract was created by the Army to respond immediately to power emergencies caused by natural or manBushmade disasters.
Malmstrom missile wing fails nuke inspection

11 Nov 2008 The 341st Missile Wing at Malmstrom Air Force Base, Mont., failed its nuclear surety inspection after inspectors found problems with the wing's weapons storage area and its personnel reliability program, which monitors who can work with nuclear weapons, an Air Force official said. Air Force Space Command inspectors allowed the wing to keep its certification to handle nuclear weapons [insert eye-roll here] and will return in 90 days to re-inspect the areas where it found deficiencies, according to an official statement from Space Command. The 341st is one of three Air Force wings that maintain the nation's Minuteman III nuclear intercontinental ballistic missiles. [See also: Minot AFB Clandestine Nukes 'Oddities'.]
12 Nov 2008 Radioactive liquid spilled into a river [River Tamar] during maintenance work on a nuclear submarine, the Ministry of Defence has confirmed. The Royal Navy said up to 280 litres (62 gallons) of contaminated water spilled from a ruptured hose as it was used to pump out coolant from HMS Trafalgar at the Devonport Naval Base in Plymouth.
The Big One
TIME -
5 hours ago
By Claire Suddath Thursday, Nov. 13, 2008 A collapsed house collapsed and crushed a car during the 1989 San Fransisco earthqquake. ...
California's Great Shake

Sky News, UK -

5 hours ago

Millions of people in southern California are expected to drop, cover and hold on together as part of the largest earthquake drill in US history. ...
Millions set for US quake drill

BBC News, UK -

6 hours ago

Residents across southern California are set to take part in what organisers say will be America's biggest-ever earthquake drill. Some five million people ...
400000 in SD County to take part in quake drill
San Diego Union Tribune, United States -
10 hours ago
SAN DIEGO COUNTY – What is being billed as the largest earthquake drill in US history is scheduled for Thursday morning. An estimated 5.1 million people in ...
Emergency drill in Town of Newburgh Saturday
Times Herald-Record, NY -
8 hours ago
The Town of Newburgh's emergency service agencies and other town departments will be taking part in an emergency management drill from 8 to 11 am Saturday. ...
NUCLEAR: Nuke plant to host drill
York Daily Record, PA -
Nov 12, 2008
Peach Bottom Atomic Power Station will participate in a medical emergency drill from about 8 am to noon today. Residents might notice some activity during ...
Committee takes new steps to prepare for disaster
Clarion Online - Glendora (subscription), CA -
Nov 12, 2008
The earthquake emergency drill will be in conjunction with "The Great Southern California Shakeout," a statewide event aiming to raise public awareness of ...