26 Nov 2008 U.S. authorities have warned of a possible 'al Qaeda' threat to transit systems in and around New York City, a Homeland Security official said on Wednesday. New York police said they were increasing security in response to the warning but said this was "in an abundance of caution." "The New York City Police Department is aware of an unsubstantiated report indicating that al Qaeda terrorists discussed targeting mass transit in New York City and the vicinity," Deputy Police Commissioner Paul Browne told Reuters. [Is Bush preparing a second 9/11-style attack, so that he can invoke martial law and destroy what's left of the US before January 20? --LRP]
New York Alert Based on Possible Al-Qaeda Planning

26 Nov 2008 The U.S. Department of Homeland Security and the FBI issued a joint warning to state and local officials yesterday about a possible al-Qaeda [al-CIAduh] plot to attack the New York subways, a DHS spokeswoman said. The alert was based on "plausible but uncorroborated information" from late September that al-Qaeda was considering the action against the largest U.S. subway system, said Laura Keehner, the department's spokeswoman.
L.A. tightens security after New York's terrorism alert
26 Nov 2008 The report of a threat of terrorist violence against the New York transit system has prompted Los Angeles officials to increase security. Details from City News Service: Local mass transit routes will be under extra security through the holidays, especially after a report of a possible Al Qaeda terrorist threat to New York City's transit systems, according to the Metropolitan Transportation Authority.
RUSSIAN ANALYST PREDICTS DECLINE AND BREAKUP OF USA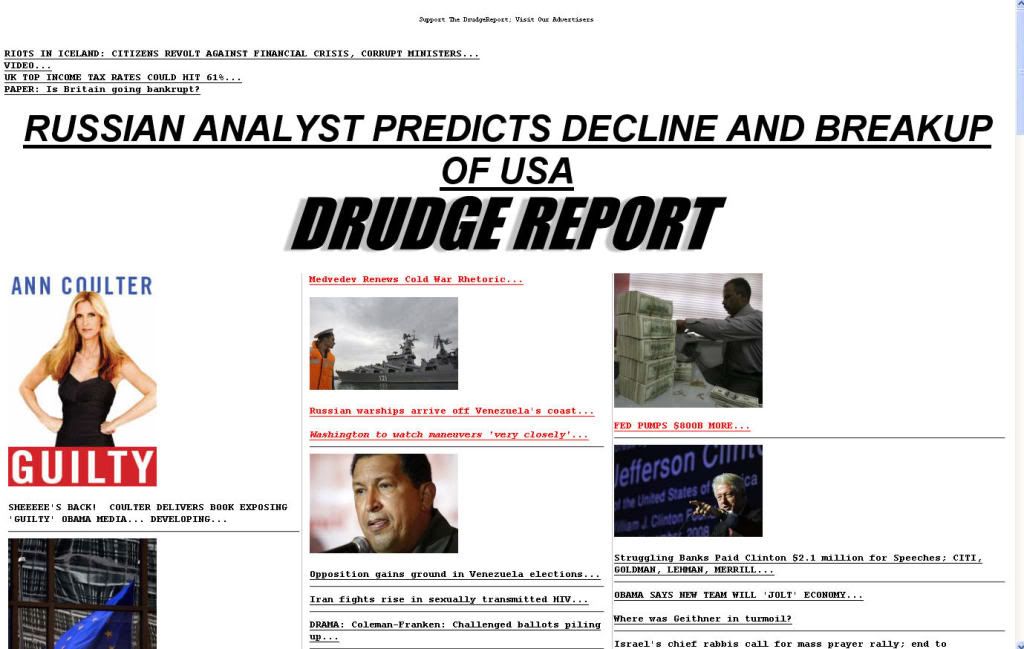 The spokesman for the
Russian space agency
has released shocking statements today predicting the break up of the United States and the existence of the '
Amero
'.
ALIPAC is responding with a call for investigations, full disclosure, and renewed vigor for border security and immigration enforcement.
Please read and distribute widely.
Article
ALIPAC Press Release
The ALIPAC Team