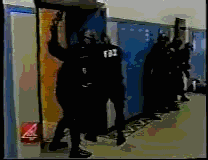 School Shooting Drill Terrifies Unknowing Teachers
NBC 10.com, PA -
Sep 9, 2008
The school district put the drill in place to test staff readiness. The Phillipsburg School Board heard from angry teachers and parents Monday night.
• Fake shooting, real terror
The Express Times - LehighValleyLive.com, PA -
Aug 29, 2008
The drill was coordinated between Phillipsburg police and school administrators to create a realistic scenario. It included an actor dressed as a gunman ...