L.A. EARTHQUAKE WAS AN ILLUMINATI TERROR DRILL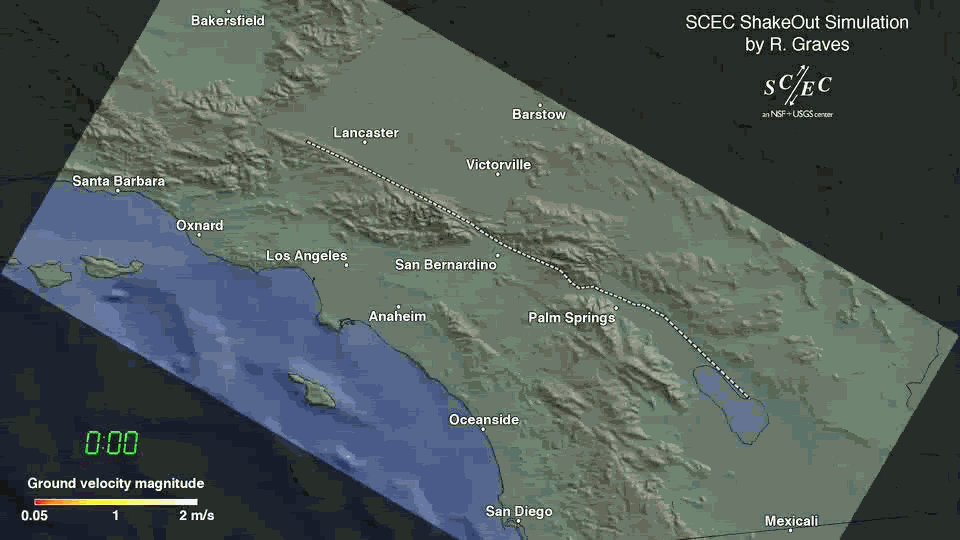 With cameras all over, SoCal Earthquake was a Star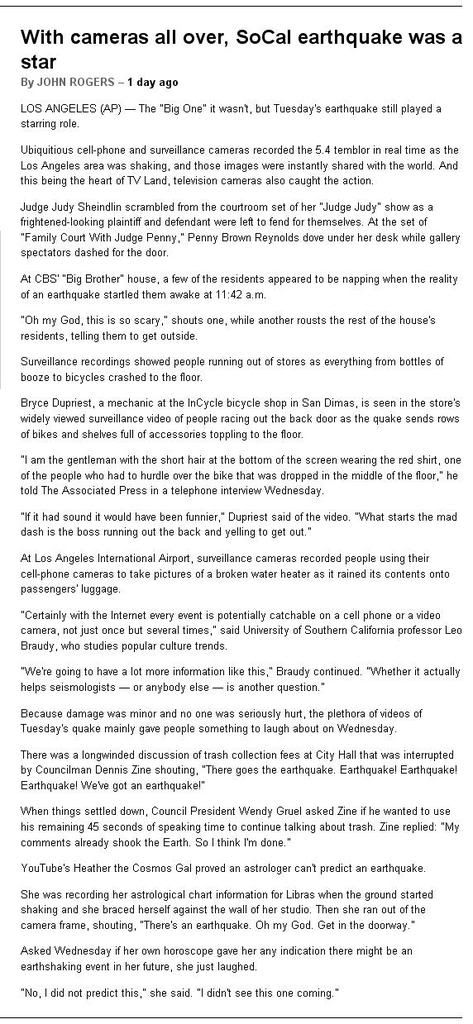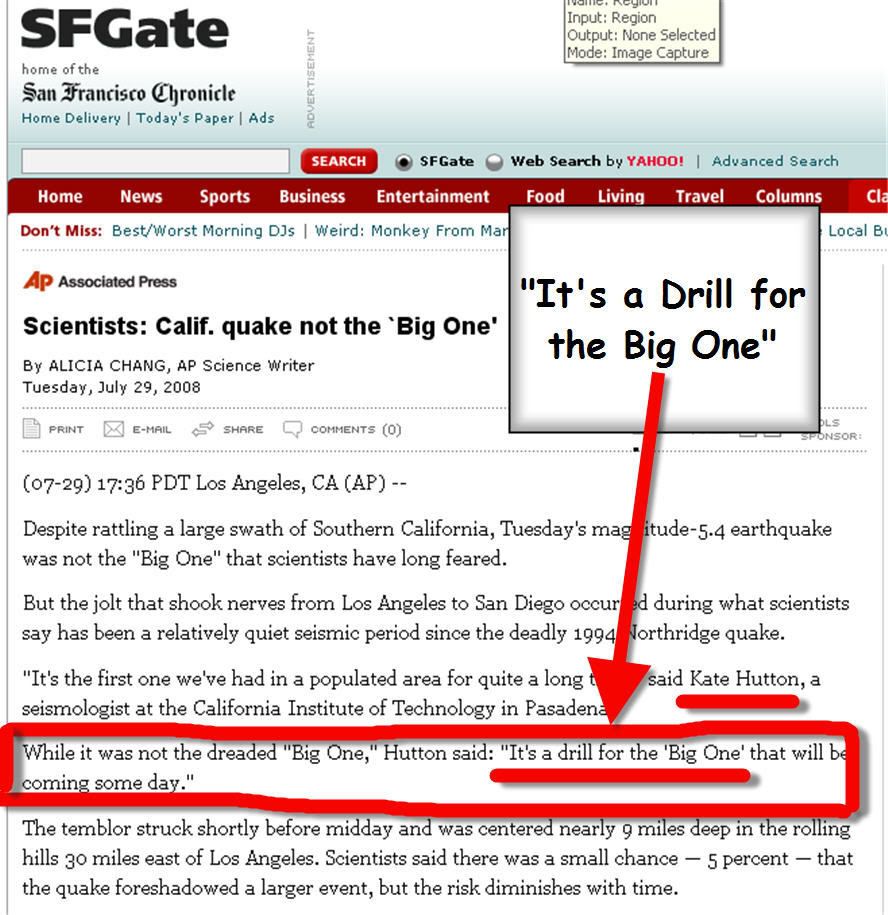 I just found my confirmation from the USGA admitting todays earthquake was a drill.


Hear it from the Rat Master's own mouth.
I repeat, todays earthquake was a drill.
Interesting how now they have real earthquakes as drills.
Listen to them admit it and make it sound like today's earthquake was no big deal.
But you whores are getting the link here first.
The Great Southern California ShakeOut is a week of special events featuring the largest earthquake drill in U.S. history, organized to inspire Southern Californians to get ready for big earthquakes, and to prevent disasters from becoming catastrophes.
These activities are based on the ShakeOut Scenario, a realistic portrayal of what will happen in a southern San Andreas earthquake.
WILL SURVIVALIST GET THE LAST LAUGH?
Hear it from the horses mouth...
DIDN'T I POST A VIDEO JUST 2 WEEKS AGO THAT POINTED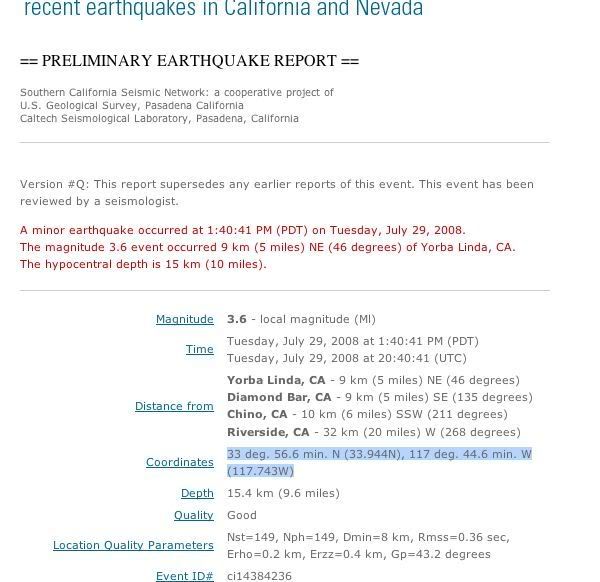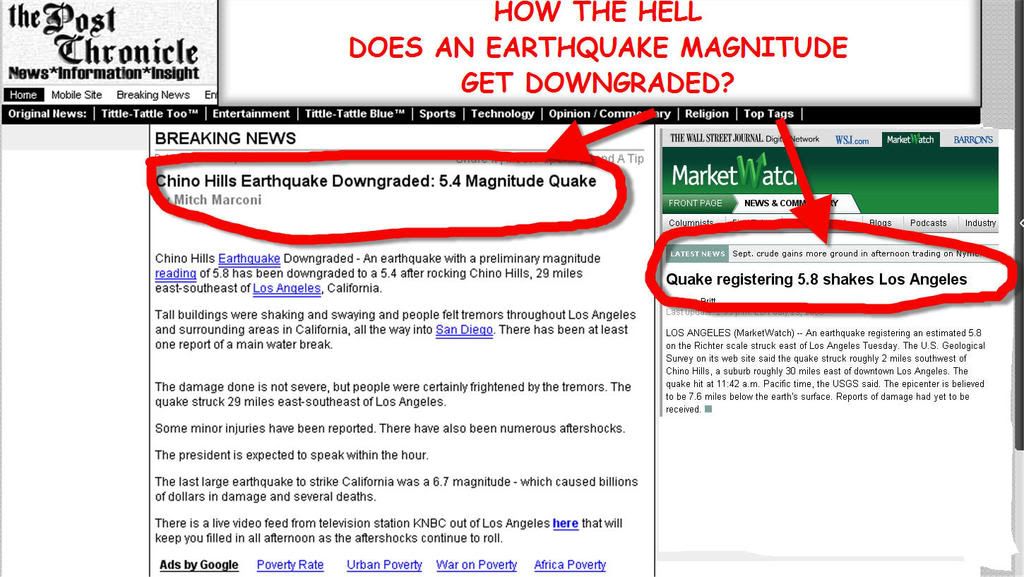 http://www.seismo.ethz.ch/redpuma/redpuma_ami_list.html
29Jul2008 18:42:18.8

34.2N 118.0W

15 mb=

5.4

A*ODC SOUTHERN CALIFORNIA
29Jul2008 18:42:14.8

34.0N 117.8W

15 mb=

5.9

M*GSR SOUTHERN CALIFORNIA
29Jul2008 18:42:15.0

34.0N 117.8W

12 M =

5.8

M*NEI SOUTHERN CALIFORNIA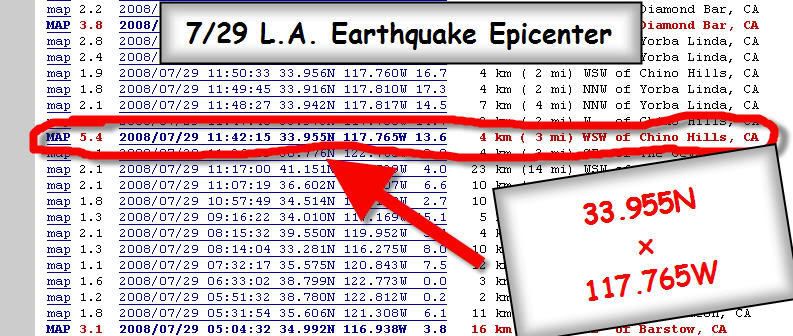 http://quake.wr.usgs.gov/recenteqs/latest_allframes.htm
Guess who founded Aerojet?

Jack Parsons . . .
the wizard of rocketry
who was buddies
with Alistair Crowley and L. Ron Hubbard.
I just thought I would throw that into the mix at this juncture
(of course, Jack Parsons has been dead since 1952 when he blew himself up messing around with mercury and I don't mean Freddie Mercury).


Decommissioning of Aerojet Chino Hills ordnance test site, California
Depleted uranium contamination exceeds standard at former Aerojet Chino Hills ordnance test site
In November 2006, Aerojet submitted a report on surface water tests from one of its areas called Upper Area A 12; the depleted uranium levels for this area showed 1,410 parts per billion [micrograms/L], in excess of the applicable 1,300 parts per billion standard.
A report filed by Aerojet on the area in 2004 had shown acceptable levels of depleted uranium at 400 parts per billion. (Daily Bulletin Feb. 15, 2007)

[Note: for comparison: the U.S. drinking water standard for uranium is 30 parts per billion.]
http://www.wise-uranium.org/dissti.html

CHINO HILLS - Two young boys suspected of stealing artillery shells during an overnight romp through the Aerojet munitions facility have prompted a security overhaul at the former weapons testing site . . . The burglary was reported Jan. 21 (2003), four days after it occurred,
by employees of Blackhawk UXO Services
, which is contracted to remove explosive munitions from the former weapon development site.
http://nucnews.net/nucnews/2003nn/0303nn/030308nn.htm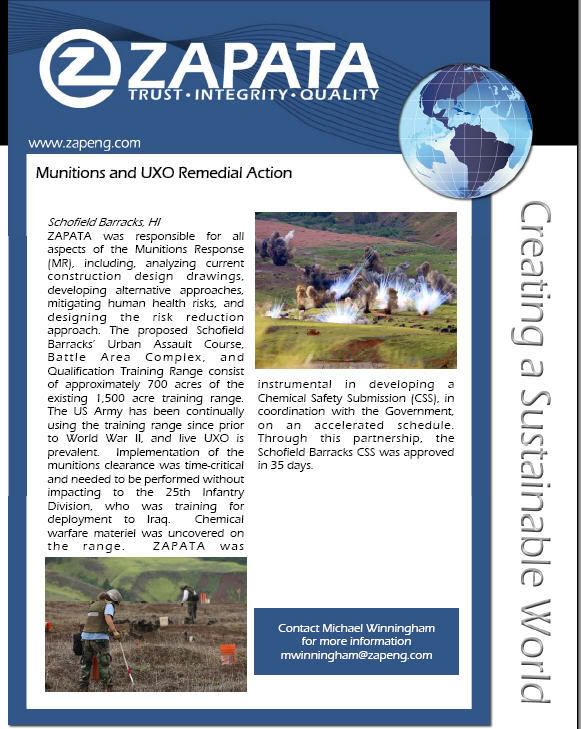 Blackhawk GeoServices, a division of ZAPATA ENGINEERING, provides professional, comprehensive, high resolution geophysical imaging and UXO support services. From small local utility locating projects, to high resolution 3D oil & gas seismic surveys, to major international groundwater projects, Blackhawk has the geophysical experience and expertise to meet your job requirements. Blackhawk UXO has extensive experience in the detection and remediation of UXO (Unexploded Ordnance) at military and commercial sites, worldwide. Innovative, state-of-the-art detection technologies such as the MTADS (Multi-sensor Towed Array Detection System) and advanced man-portable systems allow Blackhawk to provide cost effective UXO detection and remediation solutions for even large and complex sites.
Business Type: Services - Consulting & Engineering
Industry Type: Environmental - Soil & Groundwater
They're in Iraq too
http://www.corpwatch.org/article.php?id=12349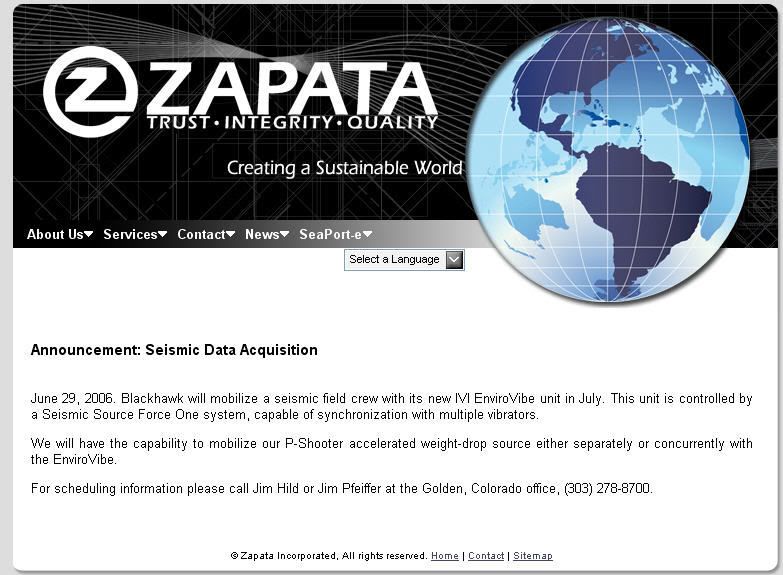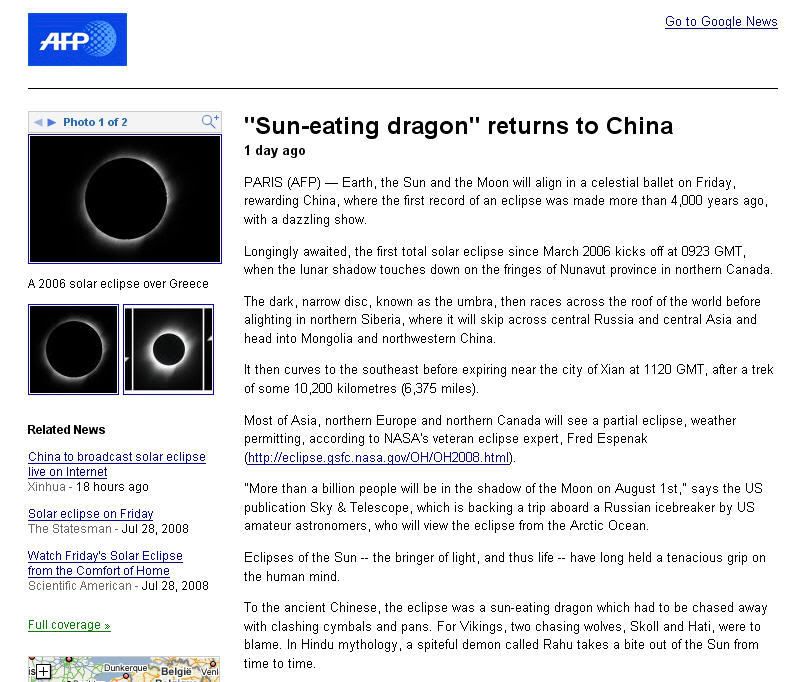 In February of this year, Earth Changes Media made headlines providing evidence of a connection between a Full Lunar Eclipse and catastrophic events. We displayed well documented evidence showing large earth changing events did occur within a 14 day window prior to, and 14 days immediately following a Full Lunar Eclipse --- without exception.
Will a similar scenario occur as the result of the coming Full 'Solar' Eclipse?
Let's take a look at history and the scientific evidence of "cycles" and in this case as it relates to "full lunar events". Below I will list the dates of 'full lunar eclipse' from 2001 to 2011.
Here are the dates of a 'full lunar eclipse' from 2001 to 2008
2001 Jan 09
2003 May 16
2003 Nov 09
2004 May 04
2004 Oct 28
2007 Mar 03
2007 Aug 28
2008 Feb 21
==

RESULTING FACTS: The following events occurred within two weeks prior and/or two weeks after the last seven listed Full Lunar Eclipse.
January 25 2001 - (India) A magnitude 7.6 earthquake shook the Indian Province of Gujarat. It was one of the two most deadly earthquakes to strike India in its recorded history. The death toll was 19,727, number of injured at 166,000, over 600,000 people were left homeless, with 348,000 houses destroyed and an additional 844,000 damaged.
May 2 2003 - (Turkey) At least 176 people have died and 521 people were injured after a magnitude 6.4 earthquake that shook the eastern Turkey?s Bingol province. Several public buildings collapsed in the centre of Bingol city and its vicinity. The last official report concerning the consequences of the earthquake in the city indicates about 570 buildings were collapsed and about 6000 others were damaged.
May 21 2003 - (Algiers) A strong earthquake measuring 6.8 magnitude struck the coastal region east of Algiers and the Tell Atlas mountains of Algeria. 2,251 people died, another 1,200 missing, 10,243 were injured and 200,000 made homeless.
May 26 2003 - (Japan) A 7.0 magnitude earthquake hit northern Japan, however, there were no casualties and very few people were injured due to the depth (about 44 miles underground) of the epicenter of the earthquake.
November 17 2003 - (Alaska) A 7.8 earthquake hits Aleutian Islands, Alaska; tsunami warning issued.
April 2004 - (United States) Yellowstone Super Volcano experienced over 400 quakes within three days. This type of increase in earthquake activity is called a "swarm". Parts of the caldera were closed to the public with areas of surface temperatures reaching over 200 degrees Fahrenheit. Some reports were telling of the sole of on-lookers shoes were melting just prior to the area's closing.
October 23 2004 - (Japan) A series of powerful earthquakes the strongest with a magnitude of 6.7 jolted northern Japan, killing at least 30 people and injuring more than 2000 people largely as the result of building collapse. The strongest earthquakes occurred during a period of several hours with the main epicenter located near Yamakoshi village, Niigata Prefecture. Thousands of landslides were triggered by the earthquakes and aftershocks with much associated damage to roads, agricultural fields, and residential.
March 3 2007 - (Sumatra) Two strong earthquakes shook the west coast of the Indonesian island of Sumatra on Tuesday, killing at least 70 people, 460 serious injuries have been reported, spread across many towns and regencies in West Sumatra. Over 43,000 houses were damaged, with over 12,000 of those severely damaged.
August 15 2007 - (Peru) Large 8.0 earthquake hits Peru. Over 514 died, with 1,090 injured, and around 40,035 families rendered homeless. A further 30,542 families have been affected.
February 12th 2008 - (United States) A "swarm" of over 100 earthquakes hit Baja California, Mexico. Swarms also began off the Oregon Coast, Northern Calif., and Alaska. They are still occurring with no sign of letting up.
Gamma-ray Burst Real-time Sky Map
(Part - II) Full Solar Eclipse and What May Follow
by Mitch Battros - Earth Changes Media
--- Volcanoes Present More Imminent Danger ---
Although earthquakes are certainly at the top of all emergency managements list; but volcanoes are not far behind. I am more concerned with recent volcanic events in Northern and Central America which may be progress to full eruptions.
I will list below current volcanoes which have just recently erupted at low to moderate levels. Any one of them could produce a massive explosion.
(July 29) Dome Collapses at Montserrat Volcano; Ash Blasts into Stratosphere
MONTSERRAT - Volcano monitors say the Caribbean's Montserrat volcano has blasted a column of ash some 12 kilometers high into the sky. The director of the Montserrat Volcano Observatory says last night's collapse of a dome at the crater sent bursts of volcanic material sweeping down into the island's abandoned former capital of Plymouth and the sea.
FULL ARTICLE: http://earthchanges media.com/ secure/3247. 326/article- 9162522470. php
(July 28) Volcano "Reventador" in Eastern Ecuador Spews Ash, Lava
ECUADOR - Reventador volcano in eastern Ecuador has begun spewing lava and has shot a column of ash high into the air. Experts at Ecuador's Geophysics Institute say recent activity does not yet call for an immediate evacuation.
FULL ARTICLE: http://earthchanges media.com/ secure/3247. 326/article- 9162522466. php
(July 28) Two Alaskan Volcanoes Erupt, One In Chile Being Watched
ALASKA - Two volcanoes in Alaska are still erupting, while one in Chile that erupted on Saturday has stopped, although another one threatens to erupt again. In Alaska both Mount Cleveland and the Okmok volcano are erupting, but seismic activity at the Okmok decreased Sunday after more activity was recorded beginning on Friday. While in Chile, the Llaima volcano erupted on Saturday, then stopped, while the Chait?n volcano there could be ready to erupt again.
FULL ARTICLE: http://earthchanges media.com/ secure/3247. 326/article- 9162522453. php
(July 26) Chilean Authorities Worried About Eruptive Activity at Two Southern Volcanoes
CHILE - The Llaima volcano, one of Chile's most active, erupted again on Saturday, sending a stream of lava down its slope and spewing a long plume of ash, authorities said. At the same time, the Chaiten volcano rumbled once again and could be preparing for another eruption, according to a Chilean volcanologist.
FULL ARTICLE: http://earthchanges media.com/ secure/3247. 326/article- 9162522449. php
(July 26) Volcano Alert Up To Code Red
ALASKA - Okmok volcano's alert level went up to code red-warning status early Friday afternoon. The volcano blew more ash into the air at midday. Pilots reported ash to 40,000 feet, with satellite data confirming the cloud.
FULL ARTICLE: http://earthchanges media.com/ secure/3247. 326/article- 9162522439. php
***Watch for (Part III) Coming Later This Week
California's 'quake crescent'

Scientists could not have predicted this a month ago!
Tom Kovach
Tom Kovach
July 18, 2008
This writer has received an increased amount of hate mail for daring to proclaim that last month's "unprecedented" dry-lightning storm in California was an act of God that will precede another act of God. This writer also dared to proclaim the notable timing relationship between the lightning storm and California's resumption of same-sex "marriage." This writer also dared to proclaim that the lightning storm that triggered more than 800 wildfires in a single day — a day that had significance of its own, both in calendar position and in events — was part of a specific sequence of events predicted in the Bible as the start of the seven-year period called The Tribulation. This writer also dared to predict that the sequence — written in Revelation 8:5 — says that the next thing to happen would be an earthquake.
People scoffed.
The Holy Bible says that, in the End Times, people will scoff. But, the fact that people choose not to believe the Bible does not diminish its truth or accuracy. And, as this column will show, the Holy Bible is accurate to such a fine degree that only someone that is determined to spend eternity without God could ignore the signs. Buckle your seatbelts.
In previous columns, this writer posited that the wildfires could heat up the rock formations, thus creating geological instability. A later column showed that, indeed, the official US Geological Survey earthquake prediction maps indicated that the wildfire zone was more than three thousand times more likely to have an earthquake three weeks after the fires started that it was the day before the fires started.
Then, this writer showed that the foreshocks had already begun — in a cluster precisely in the heart of the wildfire zone. That zone also has a location nearby, called the Bohemian Grove, that is the site of idol worship by some of the leading members of American and foreign business, government, and news media. All of this information, and much more, was to be included in a new book about these Bible prophecies. This writer must have touched a nerve somewhere, because the book was hacked on my computer.
But, now, something has occurred that should make even the most jaded skeptic agree that only an all-powerful God could have put these incidents into motion to produce such a specific result. That result is the defeat of a "strange god" that dares to defy the God of the Bible. How can this writer be so sure of such an event, when scientists using the best equipment can only predict earthquakes a few hours in advance? The answer is simple. God has provided an unmistakable sign.
USGS earthquake map, showing cluster near Asti, CA
(Source: official US Geological Survey
Earthquake Hazards Program for Northern California)
The above map clearly shows the "earthquake cluster" that appeared on USGS maps after the lightning-ignited wildfires began. California has long experienced minor quakes along the famous San Andreas Fault and other fault lines of that fault system. Some earthquakes, notably in San Francisco, have been major. Most earthquakes are preceded by minor foreshocks. When those shocks begin to cluster near one location, and/or to increase in frequency, that is often an indiction of stronger earthquake activity to follow. Foreshocks can precede the "real" earthquake by hours, days, or weeks. This cluster around Asti has increased notably in the four weeks (one lunar month, as on the Hebrew calendar) since the lightning storm.
Zoom-in of quake cluster zone near Asti*, CA
(Source: official US Geological Survey
Earthquake Hazards Program for Northern California)
* "Asti" means "hill" in the ancient Ligurian language.
The above map shows a closer view of the Asti quake cluster zone. In the closer view, it is easier to see how many quakes have occurred recently in this small area. But, if a person had been watching this same map several times per day, for a month, then that person would see what this writer will now highlight for the reader.
This arc of quakes popped up slightly outside the cluster.
(Source: official US Geological Survey
Earthquake Hazards Program for Northern California)
The yellow highlighted line shows a group of small earthquakes that popped up in rapid succession of each other, but outside the small cluster. Yellow boxes on the map indicate quakes within one week of the map date-time, which is shown on the lower left portion of the full-size map.
This arc of quakes begins inside the cluster.
(Source: official US Geological Survey
Earthquake Hazards Program for Northern California)
The blue highlighted line shows a smaller arc of quakes that popped up in one day. This group of quakes follows a similar arc pattern, oriented in approximately the same direction as the older arc. Notably, this arc-shape was also present in the original online map of wildfire locations. It was that arc of wildfires that first got this writer's attention as confirmation of things that had already been written in the book that was hacked soon after this writer first published some of these observations online.
The same two arcs, connected and filled in.
(Source: official US Geological Survey
Earthquake Hazards Program for Northern California)
The above picture shows the same two arc lines, only now connected and filled in with white color. Clearly visible is a crescent-moon shape. The crescent is the symbol of Islam. But, this crescent is oriented exactly upside-down and backwards of the Islamic crescent. In religious iconography, that would be the equivalent of a public slap in the face. Only an all-powerful God could have arranged earthquakes to appear on a map in the shape of an upside-down-and-backwards Islamic crescent. But, wait, there's more. Islamic flags actually contain two celestial features: a crescent moon and a star. So, where is the star? Remember the mention of the idol worship at the Bohemian Grove? This writer maintains, as does the Holy Bible, that idol worship is an activity inspired by Satan — even if the participants do not recognize Satan, and think that they are praying to "someone else." Let's insert a Satanic star (point-down) over the location of the Bohemian Grove.
Satanic star over the location of the Bohemian Grove idol.
Geographic references make a precise Islamic flag —
only upside-down and backwards!
(Source: official US Geological Survey
Earthquake Hazards Program for Northern California)
In the Holy Bible, the book of 1st Samuel, Chapter 5, tells the story of what happened when the Philistines captured the Ark of the Covenant from the Israelites during a battle. God had allowed the capture of the Ark, in order to punish the Israelites because of the two wicked priests (the sons of Eli). But, when the Philistines put the Ark of God into the temple of their idol (Dagon — a giant fish, from which the saying "holy mackerel" comes), God caused the idol to bow down before the Ark. The Philistines stood the idol back up. So, the next night, the idol was knocked down on its face again — only, this time, Dagon's head and hands had been neatly cut off. Given that the Philistines had priests and guards around the temple, that should have been impossible. Once that happened, the Philistines realized how much trouble they were in for keeping the Ark of God in their possession. The Philistines tried to send the Ark away, from Ashdod to Ekron, but then the people of Ekron broke out with large tumors.
As this writer pointed out in "The book was hacked," the modern-day word "Palestinian" is a mere linguistic smokescreen. In the Arabic language, the word "Palestinian" is transliterated Filistin! They are the direct descendants of the ancient Philistines, they are still the blood enemies of Israel, and their capital is still in Gaza to this day.
Now, is it any wonder that the people who engineered the modern giveaway of Israel's land are the same people (Henry Kissinger, George H. W. Bush, Bill Clinton, and George W. Bush) that worship before an idol of a Mesopotamian demon?
World "leaders," in priestly robes, before the Bohemian Grove idol.
(Source: Jesus-is-Lord.com)
I wonder what the scoffers will say about the observations in this column. Hmmmmmmmmm...
"Do not be deceived, God is not mocked..." — Galatians 6:7
http://www.renewamerica.us/columns/kovach/080718